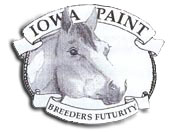 STALLION AUCTION
Looking for a list of the stallions still available through the Iowa Stallion Service Auction? Look no further! If you are interested in purchasing a breeding, contact Cindy Westphal at 641-990-6355 or westphal@partnercom.net
Almighty/All Might T
Awesome Looking Kid
Hot Wired
Double Up Investment
McKenzies Gallant Jet
Exceptional Look
Execute A Score
One Kool Krymsun
Gamblin Zippo
I Am Legendary
Sacred Impulsions
Ice Cold Machine
Ima Ultimate Machine
Investment Zippo
Forest Midnight Comet
Required Invitation
Only Krymsun - SOLD
Scenic Back Road
Warnjames Ghostdancer
Guaranteed
Hes A Cool Hotrod
Scenic Royal Flush
Mr Far Verse
Macs Good N Plenty - SOLD
Pleasurable Conclusion
A Touch Of Sudden
Zippos Golden Finale
Invited Back
Good Cruisin Machine
RF Expensivebuckaroo
Mi Te Secure
Go Play Fella


Click here for the 2015 stallion catalog.
Click here to view the stallion supplement sheet.

STALLION FEES MAY BE PURCHASED BY CREDIT CARD!!
CONTACT A FUTURITY COMMITTEE MEMBER FOR MORE INFORMATION!